20 Adult Video Chat Sites (Best Apps)
Live cam sites skip straight to the most thrilling parts of chatting online. – And in case you're wondering what that might be, it's having cybersex, of course!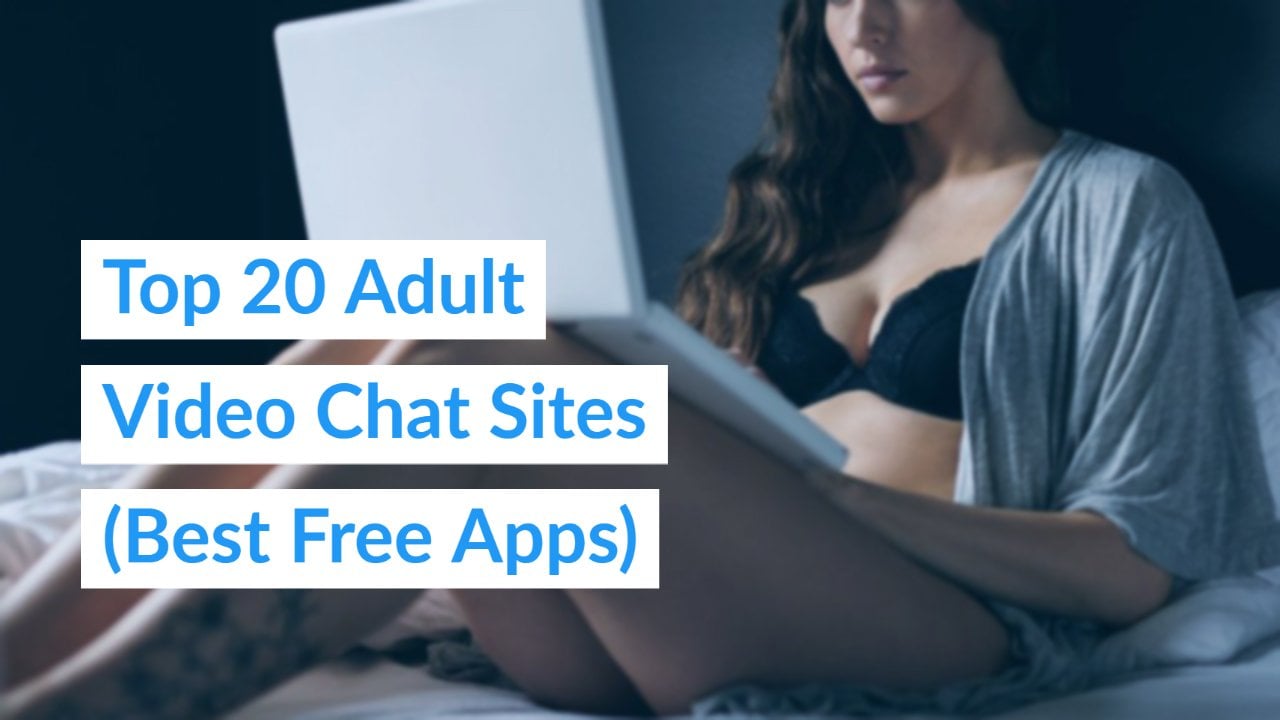 But how are you supposed to know about the best sites? – Well, our team at Joingy has done the research already.
On this guide, we're sharing the Top 20 Adult Video Chat Rooms, along with a few good cybersex apps too. In addition, the platforms below have pros and cons listed, so you can see a clear overview.
---
Here's an outline of the adult video chat sites we're going over:
---
"Adult cams are an interactive alternative to simply watching a pre-recorded video." said a Joingy team member. "While they could be less random than a site like Omegle, it's still the best way to have cybersex."
---
1. HeheParty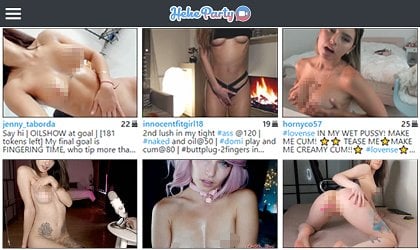 HeheParty has adult video chat rooms with lots of girls online. Broadly speaking, this cybersex app is very straightforward. However, there are many benefits that also make it the best live cam site around.
Since their community is full of amateurs, HeheParty has a sense of authenticity. Unlike other popular sites, the girls only do adult cam shows because they genuinely enjoy it. So you'll find that the entertaining and hottest performers rise to the top of the webcam rankings.
Now pick a babe, then watch their live video stream until you're satisfied!
---
Pros:
Many hot women online
Completely free live cams
Watch without registration
Cons:
Lacks ethnicity diversity
Asks for a sign-up to chat
Tags inaccurate at times
---
2. CamSlurp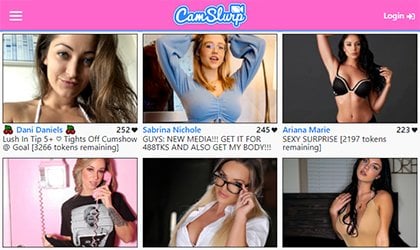 CamSlurp has live cams featuring girls, couples, and transgenders. But what makes them better than most sites are the weekly shows from real adult film stars.
As a go-to platform for many of these babes, expect to see models like Mia Malkova, Bailey Brooke, or Lana Rhoades. And the list doesn't stop there either. Since many more popular adult industry names make surprise appearances here!
In fact, a lot of CamSlurp girls even do regular, consistent live streams.
---
Pros:
Chat with real adult stars
Fast mobile video streams
Opens in full-screen mode
Cons:
Register to see schedules
Big shows only on weekends
Small gay and trans sections
---
3. ThotsLive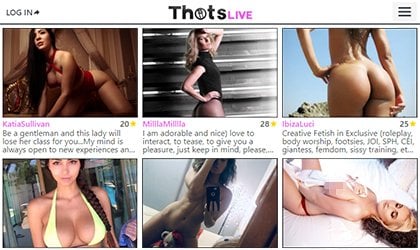 Thots Live is a cybersex platform to chat with female webcam models. And speaking of hot girls, they even let you sort them by body-type.
Choose from curvy babes, average physiques, petite chicks, or athletic women. Then, it'll update your online overview with whatever you selected. So, that makes it much easier to find the kinds of partners you're attracted to or interested in.
For intimate video chatting, Thots Live could easily be your new favorite site.
---
Pros:
High-quality video
Categories for body-type
Girls, couples, and trans
Cons:
Mostly for cam-to-cam
Performers might be busy
Some models are too quiet
---
4. Tempocams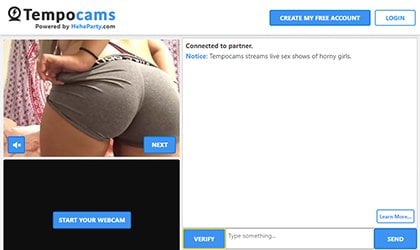 Tempocams is an adult site like Chatroulette for cam-to-cam cybersex. There are several sections with the main one being their Girls Roulette which only has women.
After entering, it matches you with a random partner for cybersex. Now watch whoever you're paired with, or tap "Next" to go onto a new webcam. Tempocams has enough live girls to satisfy anyone's urges. But you could also join separate sections for gay chatting, trans cams, and more.
So they're a good site to watch adult video streams and meet random women.
---
Pros:
Easy "Next" button
Webcams load instantly
Free-to-join, yet not needed
Cons:
Can't turn on a webcam
Some girls busy chatting
Max of 50 pairs for guests
---
5. Jizzoh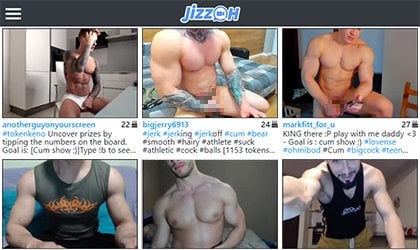 Jizzoh is a gay adult cam community for amateurs. Just keep scrolling through the live video broadcasts to load more random hot guys.
Also, try organizing online performers by age if you prefer chatting with young or mature men. As a whole, there's a huge variety of dudes and you'll find everything from twinks to hairy studs.
On a side note, it's even easy to set up a Jizzoh video chat room if you'd like!
---
Pros:
Plenty of gay adult tags
No registration required
Broadcast your own video
Cons:
Only really for gay men
Could use more features
Never know what you'll see
---
6. Trapsexy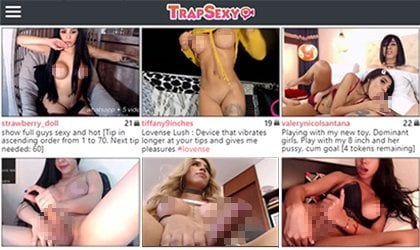 Trapsexy is the best site for trans cams because of their attractive T-girls. Join a video chat section, then it shows real-time thumbnails of the live performers.
One look at these previews and new users will be hooked before even watching a single webcam. Believe us, many of Trapsexy's male-to-female transgenders could pass as stunning women.
On top of that, members with free accounts may talk directly to them.
---
Pros:
Full-screen webcams
Talk to real transgenders
Non-intrusive chatbox
Cons:
Might not be for everyone
Chatting requires an account
Some bad video connections
---
7. WhoaGirls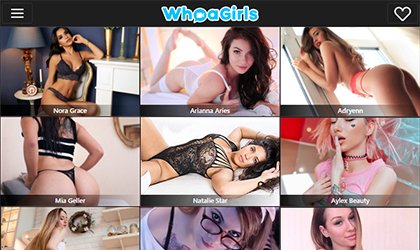 WhoaGirls has women that blow people away from their sheer beauty and a sexual openness to pull you in. Compared to most adult webcam sites, the models come across as babes with personality.
To clarify, we're talking about how they engage partners in conversations. When having cybersex fantasies together, there must be a total lack of awkwardness. Even more than looks, it's a major part of an interactive video stream.
So you could say WhoaGirls stands out as a luxury for an adult chat site.
---
Pros:
HD video quality
Intimate and interactive
Free credits for joining
Cons:
Webcams load slowly
Less about group chatting
Pay-per-min private shows
---
8. iHeartGuys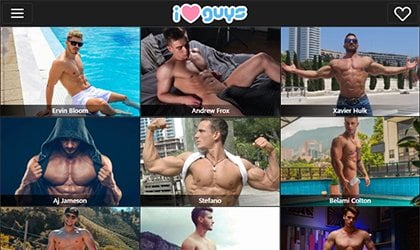 iHeartGuys features male models through a layout of live cams. Simply put, it's a laid-back community where visitors can hang out in gay video chat rooms.
Try sorting the online guys by adult tags with their kinky categories. Open the menu, then choose from options like college, muscle, twinks, or bi-curious. All of the models even list a biography, so you're able to learn about fetishes and much more.
Without a doubt, iHeartGuys will be a memorable adult site for any gay man.
---
Pros:
Ripped muscle studs
Detailed performer bios
Many gay categories
Cons:
Male-only adult site
Need to make an account
No real-time video previews
---
9. Flingster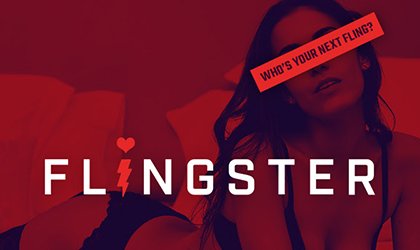 Flingster is a popular adult chat roulette. Discreetly designed, they're a top video cybersex platform for meeting strangers.
Any web app can claim it's anonymous, but Flingster has built-in features to hide your identity. Using "AR Filters" like Snapchat, visitors may turn on virtual masks that cover their faces. Most importantly, this option doesn't cost anything either.
Just allow a video camera, enter your sex, and start chatting now!
---
Pros:
High amount of adults
Webcam chat for cybersex
Anonymous video options
Cons:
Some paid features
No downloadable apps
Poor male-to-female ratio
---
10. Chatrandom
Chatrandom is a great way to enjoy anonymous adult conversations. Just enter the video section and connect to a random person. If you've ever been on Chatroulette, then you're already familiar with this idea.
For Android devices, Chatrandom has an app through the Play Store. While they don't offer one to iOS users, the web client is still fully functional on mobile. So grab a free download or simply use the site itself.
Don't forget to enable your webcam before joining a video chat here too!
---
Pros:
Anonymous and free
Instant webcam pairing
Meet random strangers
Cons:
Displays your country
No app for iPhone or Mac
Requires a video camera
---
11. Flirtlu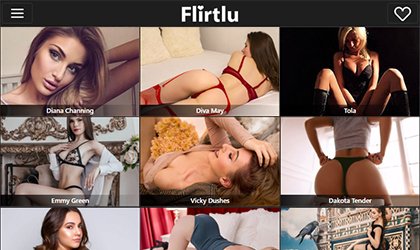 Flirtlu has live cams of beautiful girls and ripped male models. With areas for both sexes, you pretty much have all the bases covered with this adult video chat app.
Some of the rooms do "Watch Parties" that go into a hidden mode. After making an account, members can join these private conversations. However, talking in the free chat rooms doesn't require registration.
Another clear thing you'll notice is Flirtlu's HD video quality. While this may seem mandatory for webcams, many sites still have poor live streaming. But they stand out as an adult app with a vast selection of categories and models.
Enter by choosing between "Live Girls" or "Online Guys" now!
---
Pros:
Unique adult categories
Sections for girls or guys
Easily browsable live cams
Cons:
Can't sort by couples
Takes a while to load rooms
Sign-up before going private
---
12. Joingy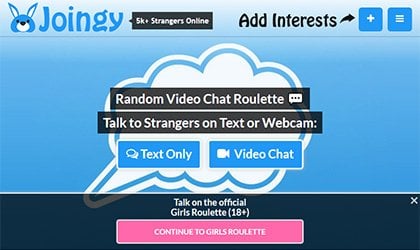 Joingy is our roulette chat app to talk to strangers. Just think of us as a website like Omegle or Chatroulette, but a modern version of these predecessors.
Enter our video section, and it'll pair you with somebody who has a webcam. Then, skip to another person by hitting the "Next" button. Alternatively, join our text-only area if you don't like face-to-face conversations. Since there are plenty of adults, it's a fun way to chat with random strangers online!
As something to look forward to, we'll add a topic matching feature soon. Basically, this lets people with the same interests connect with each other. And that could add to the excitement of meeting like-minded, yet random adults online.
Simplicity is our motto. So by design, Joingy makes it a breeze to chat now.
---
Pros:
Notifies on new messages
Receives regular updates
Viable Omegle alternative
Cons:
Rigid reporting system
Interest feature coming soon
Less popular than others
---
"Our team frequently improves the video chat app with updates," said a Joingy developer. "Regularly, we do tweaks and upgrades that enhance the user experience."
---
13. Shagle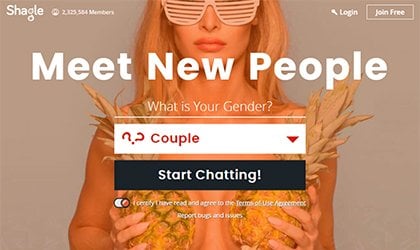 Shagle is a video chat roulette for adults. To set them apart from other random webcam apps, they have a lot of appealing features. And the most notable of these is a gender filter, which does exactly what you'd think.
Tired of the painstaking struggle of meeting women on chat apps? Well, enable this and Shagle will match you face-to-face with real girls. For anyone that's ever used a roulette chat site, then the benefits here are obvious.
Unfortunately, they do require a premium subscription before accessing their sex filtering options. But compared to buying tokens on a live cam app, you're actually saving quite a bit of cash.
So it's up for you to decide if a few bucks per month is worth it.
---
Pros:
Excellent gender ratio
Option for re-matching
Feature to filter by sex
Cons:
No way to pause
Premium-only options
Must connect a webcam
---
14. LiveChads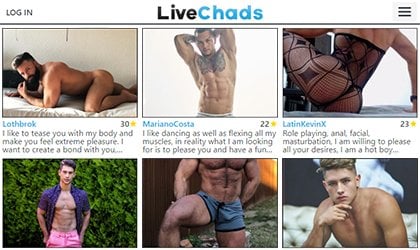 LiveChads has gay adult cams for video chatting. And their cybersex app caters to women too by having categories with straight and bi guys.
When you join one of these separate sections, it instantly refreshes to show new male models. Even though they don't have as many webcams as other gay chat sites, you never know where you'll meet your favorite one.
All things considered, LiveChads is a good alternative for cybersex with men.
---
Pros:
Hot male models
Video chat with guys
Straight, bi & gay sections
Cons:
Can't preview live cams
Account required to chat
Few age choices over 30
---
15. Jerkmate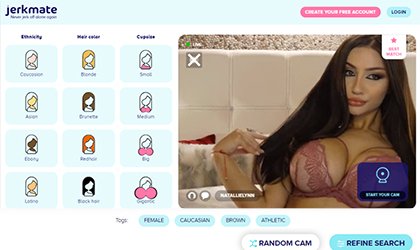 Jerkmate has a unique twist for an adult app. Rather than looking at a standard overview of live cams, they choose your best match instead.
First, the site asks a couple of questions about sexual orientation and the types of bodies that turn you on. Next, it pairs users with someone who fits their preferences. So if you like curvy white women, then they'll connect to adult video broadcasts for those inputs.
Occasionally, the person might be away, but you can scroll below to see dozens of close matches. And the only real downside is that it gives a registration prompt once determining a partner.
If Jerkmate picked someone good for your tastes, then they're worth a sign-up.
---
Pros:
High definition videos
Chooses your ideal partner
Good idea for a cybersex app
Cons:
Sometimes inaccurate
Asks for registration too fast
Matches with away partners
---
16. Camsexia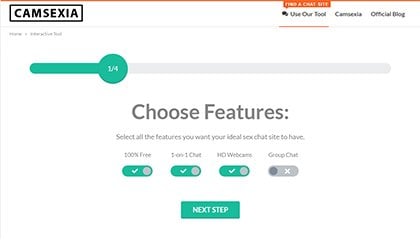 Camsexia isn't a chat platform on its own. Instead, they're an adult app made to match visitors with a cybersex site tailored for them. If this doesn't make sense yet, we'll explain by guiding you through an example.
Choose if you're willing to spend a few bucks or only want a free site. Now select a preference of adult chat rooms or webcam cybersex. There's a difference between group vs private messaging, so this is an important thing to ask.
After more questions like these, Camsexia determines your ideal chat site.
---
Pros:
Don't have to install an app
Calculates a tailored match
Surprisingly accurate system
Cons:
Almost too simple
Lacks a variety of questions
Not really a video chat site
---
17. ChatSpin
ChatSpin has a webcam chat app for iOS and Android devices. So they're a viable option for just about every adult. Sometimes, it's a lot more convenient to open up a video cybersex app right from your home screen.
Offering a location filter, members can take a bit of randomness out of meeting strangers too. But if you're uncomfortable with talking face-to-face, then ChatSpin may not be the right site for you.
Nonetheless, other people clearly see that as the fun part of cybersex.
---
Pros:
Good location matching
Filter by males or females
Apps for iPhone & Android
Cons:
Some privacy issues
Only appeals to mobile users
May get banned for nothing
---
18. BubbleClips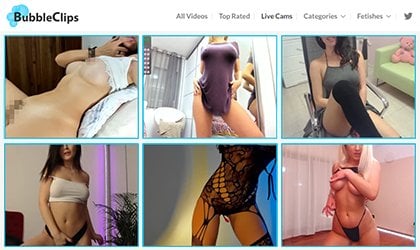 BubbleClips has a live cam section that you'll want to take a look at. Although it's mainly a site for adult videos, the amateur webcams are among the best out there.
Not only is it popular with hundreds of live girls, but they also remain a free community supported by tips. And you won't believe how these jaw-dropping women show off more than a little bit of nudity.
As a side benefit, BubbleClips adjusts your video quality so streams never buffer. That's just one of many features most viewers don't notice. But it adds to the site's overall excellence. Sometimes, free webcams with no-frills are a breath of fresh air from all the complicated apps.
Now visit the live broadcasts, choose an adult chat room, then start watching!
---
Pros:
Amateur adult webcams
Video thumbnail previews
Hot girls and real couples
Cons:
No sorting filters here
Needs a better mobile layout
Main appeal is adult videos
---
19. Chaturbate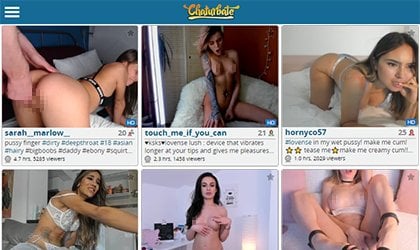 Chaturbate features girls, couples, males, and trans cams. Collectively, they have everything you'd want out of an adult video chat site. Since it's free by design, members don't need to buy tokens either.
Think of Chaturbate like an online strip club with no strings attached. Every model has a video chat room, moderated by a select few dedicated fans. That way, they can focus on cybersex through private messages or group conversations.
It's also encouraged for the broadcasters to attract viewers by putting on hot live cam shows. Afterward, members may send over tips of any amount, but that part is totally optional. As a free adult community, they never pressure you to spend money or even for registration.
Anyone who hasn't tried Chaturbate yet, then you're definitely missing out.
---
Pros:
Sort by region, age, etc
Tip-inspired community
Highly active chat rooms
Cons:
Non-members have ads
Chat disabled for guests
Age verification to broadcast
---
20. MyFreeCams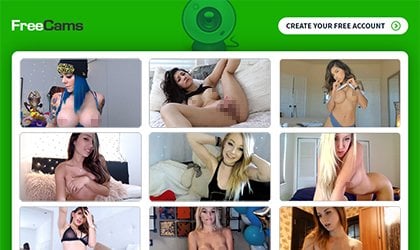 MyFreeCams only lets women broadcast live video, unlike most webcam chat sites. Some people prefer to avoid seeing males, no matter if it's a couple or not. So if that sounds nice, then this could be a good platform for you.
At first, they may seem overwhelming with too many girls and a lot of sorting filters. Once you get the hang of it, MyFreeCams really shines. On average, the models have unique personalities and know how to entertain the fans.
As a cherry on top, all of these women are stunningly sexy too!
---
Pros:
Massive amount of girls
Free adult chat platform
Endless helpful features
Cons:
Cluttered design
Slow-loading website
No couples allowed
---
Share Your Opinions
Our staff at Joingy wants to hear individual feedback! – Tell us what you think about the adult video chat sites by leaving your opinion.
And we'll directly consider these thoughts for future improvements.
---
"With how many random apps are here, there's enough variety for everyone," said a Joingy team member. "That's why we shared so many places to chat online."
---
At the time of reading this, it's a fresh list of popular platforms. – Just look at the top of our post for an exact date it was previously updated.
That way, readers know they're seeing the most modern sites now.
---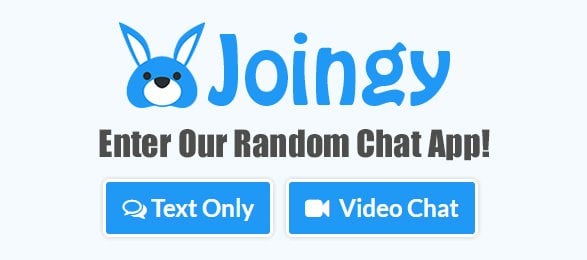 ---