18 Sites Like Omegle | Chatroulette Alternatives
Do you enjoy sites like Omegle or Chatroulette? – Then you'll be happy to hear there are a lot of good alternatives.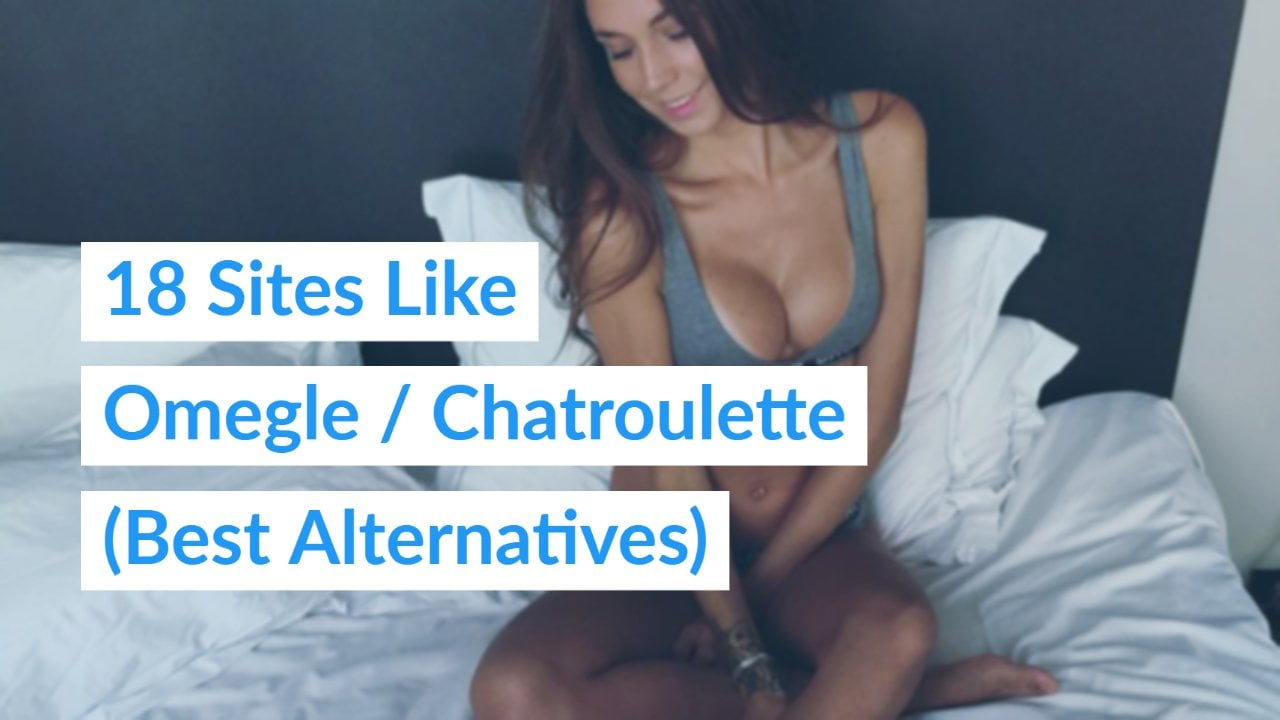 Many similar apps to talk to strangers online have more features. – And it may surprise you that they're just as popular as the big ones!
Overall, this is a comprehensive list for those who want to see different kinds of random video chat apps. No matter if you've been banned from Omegle, or are only seeking a better alternative.
Now jump ahead and try the roulette chat sites we've featured below.
---
These random chat sites are the best Omegle and Chatroulette alternatives:
---
"Soon, users may need a reliable Omegle alternative more than ever." said a Joingy representative. "Our list goes over the pros and cons of the best sites like Chatroulette."
---
1. Joingy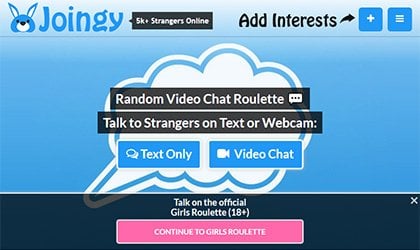 Joingy is our roulette chat site to talk with random strangers. Just like Omegle, visitors have the choice to enter text or video sections. Think of us as a modern alternative with everything you know and love from the original sites.
There are behind-the-scenes upgrades too, like mobile video chatting. In fact, you might even meet someone on a smartphone from your PC or laptop. It's common for cross-device pairing to happen, which increases the randomness.
After all, that's the beauty of roulette chat sites, you never know what kind of fun people you'll match up with!
---
Pros:
Clean, minimalistic design
Fast, fun, and multi-device
Our alternative to Omegle
Cons:
Could use more total users
Features still in development
Some rare connection issues
---
Joingy Chat Sections
You don't actually need a webcam on Joingy, even though we do require them for the video chat area. Since, if you kept staring at blank screens, then you couldn't exactly call it a webcam roulette.
Everyone may enter our text section without a camera. – Then, it's as simple as cycling through random strangers. Similar to any site like Chatroulette, just go from person-to-person, greeting new partners.
With no downtime between pairs, it's a close alternative to the originals.
---
Flagging / Spam Moderation
Unlike Omegle, users aren't required to fill out any captchas. Our moderation team works to keep the roulette free of spam. From experience, we know those can be too annoying when you're trying to meet new people.
Occasionally, you might run into someone breaking the Chat Rules. But that's what the flag button is for! Believe it or not, we take action on reported conversations.
When half the connections are spambots, it totally ruins a random chat site.
---
Note for Interest Matching
One of Omegle's best benefits is the "Interests" matching for users. Chances are, anyone pursuing a site like them would already be familiar with it.
At Joingy, we're ready to deploy the same feature on our chat app! – Currently, it's unavailable because the webcam roulette needs more users for this to be any good.
Omegle has at least 30,000 strangers online at all times, so you have a massive and robust pool of people there. Without those vast numbers, this option would only end up being lackluster.
As soon as Joingy has enough concurrent chatters, we'll add an "Interests" feature!
---
Want to learn more? – Read about the development of our topic matching here.
---
2. Tempocams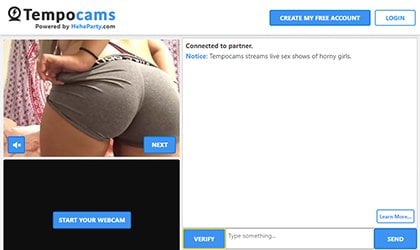 Tempocams randomly matches you with live girls doing seductive shows. So, it's like an adult Chatroulette, but if you were to only connect to women. Additionally, their site has sections for males, females, transgenders, and more.
Once a couple of seconds go by, it cycles to a new random partner with an automatic reroll feature like Omegle's. Alternatively, you could tap the "Next" button to skip to someone else.
After around 50 or so pairs, Tempocams asks guests to sign-up for free. But that's definitely a lot of previews since most people won't pass on any of them. Let's face it, you're more than likely to end up creating an account here.
Not just to stay connected either, but because they're good Omegle alternative!
---
Pros:
Chat with live girls
Fast webcam streaming
Multiple good sections
Cons:
Can't talk until verifying
No C2C without an account
Eventually have to register
---
3. Flingster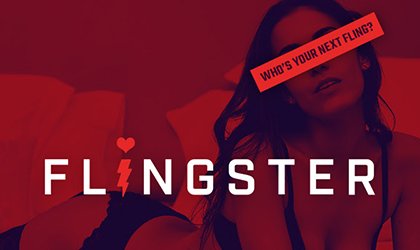 Flingster is an adult alternative to Omegle that requires everyone to be over 18 years old. It's also highly discreet, which can be important for random chat sites.
Simply put, think of them as an adult Chatroulette where cybersex and nudity are allowed. Normally, you could use Omegle's unmoderated section, but we all know that's full of spambots.
Best of all, they have anonymity features like virtual masks that cover your face. And these augmented reality filters are a good addition to any webcam chat site. Overall, Flingster's like Chatroulette in many ways.
But upon joining, you'll see it has a lot more cool options!
---
Pros:
Custom webcam filters
Adult version of Omegle
Virtual masks for anonymity
Cons:
Only for having cybersex
Many partners skip males
Subscription for best options
---
4. Chatrandom
Chatrandom's video chat app has a perfect blend of simplicity and social stimulation. Seeing it on your home screen, it's just so tempting to open the roulette and begin connecting to strangers.
While a webcam isn't required to talk on Chatrandom, you'll be limited to the text-only section. But even if you could join without a camera, everyone on Omegle skips those partners anyways.
So try the Android app or web client and see if they could be your new go-to Chatroulette alternative.
---
Pros:
No registration required
Anonymous video chatting
Several good, free features
Cons:
No app for iPhones
Lots of low-quality webcams
Not much adult moderation
---
5. Slutroulette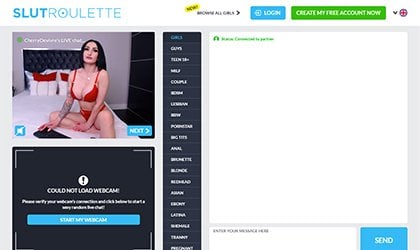 Slutroulette was born to fill a need for an adult Chatroulette. After connecting, you'll instantly start watching a live girl on video. Then, they frequently ask users to register before enabling their own webcam.
It's pretty clear that Slutroulette wants new guests to sign-up. And honestly, these notices can be sort of intrusive. But that appears to be the only downside of joining this Chatroulette for meeting women.
All things considered though, the live video streams are high-quality. Surprisingly, there's actually a real girl on the other side of the chat room too!
Regardless of whether you have to sign-up for an account first.
---
Pros:
Real webcam girls
Popular and trusted
Many adult categories
Cons:
Intrusive notifications
Takes a moment to load
Register for cam-to-cam
---
6. Camsroulette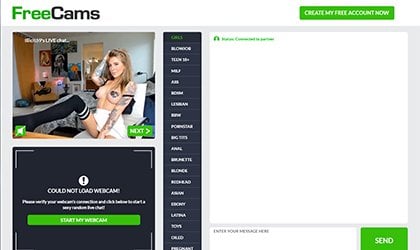 Camsroulette, in a few words, classifies as an adult Omegle, but only for women.
If you're a guy, you can still watch and chat with the girls on webcam. So that's nice, even though the men can't broadcast their own live video. Also, they have a list of categories that you're able to sort by too.
Some of these tags include blondes, redheads, teens, or even a section for lesbian chatting. Basically, this narrows down the partners you'll pair with, then gives a more precise match.
Broadly speaking, it's a combination of Chatroulette and an adult webcam site.
---
Pros:
Zero costs involved
HD video connections
Easy to meet girls online
Cons:
Only for adults (18+)
Mandatory registration
Can't chat w/o an account
---
7. Guysroulette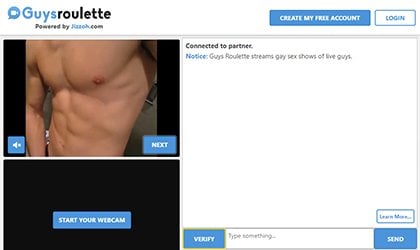 Guysroulette only lets males broadcast since the main audience is gay men.
That's right, it's like Omegle, but if the video section was full of male models, rather than a variety of strangers. Also, take a pass here if you're not in the mood to see any nudity because they're an adult webcam chat site.
Now to broadcast yourself, Guysroulette does require registration. But that's their way of verifying you're over 18 years old. Afterward, members can connect to as many cam-to-cam sessions as they want.
As a whole, it's probably the best gay Chatroulette alternative.
---
Pros:
Meet random hot dudes
Perfect for C2C with guys
Top gay Omegle alternative
Cons:
Nudity (Adult 18+)
Only has men online here
Limited guest connections
---
8. Traproulette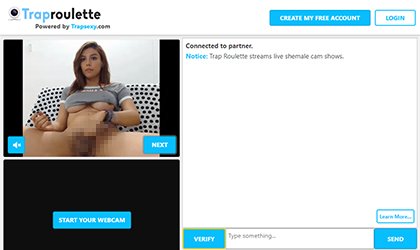 Traproulette (a.k.a. Sissy Roulette) has a full-blown transgender webcam theme. When visiting the web app, you're placed into a private room with a partner. Then, it alternates every few seconds to pair you with another random trans girl.
As an adult site like Omegle, be wary if you're actively avoiding any nudity. Since, Traproulette mostly caters to the alluring aspects of live webcams. Before talking, they also ask guests for a sign-up first. After that, it's completely free to chat with all of the stunningly hot transgenders.
Without a doubt though, it's easily the best trans Chatroulette alternative.
---
Pros:
Breathtaking trans girls
Great as a sissy roulette
Talk to real transgenders
Cons:
Mostly for cybersex
Nudity (Discretion advised)
Sign-up eventually needed
---
9. Dirtyroulette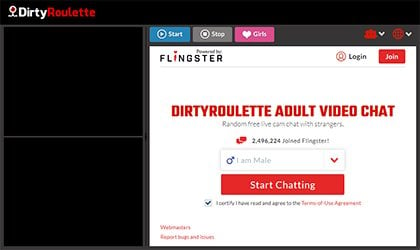 Dirtyroulette is a plain and simple, adult alternative to Chatroulette.
With its main appeal being face-to-face conversations, there are a couple of cons if you don't have a webcam. Messages show up in the chat window, sending a reminder that others cannot see your live stream.
So, it can be discouraging when you have to skip through 50 strangers before finding someone to talk with. But that's nothing new for random video chat sites.
Make sure to allow your camera and mic before joining this webcam roulette!
---
Pros:
Fully nudity allowed
Speedy partner matching
Straightforward video chat
Cons:
Not for text chatting
Cybersex is the only appeal
Webcam almost mandatory
---
10. Shagle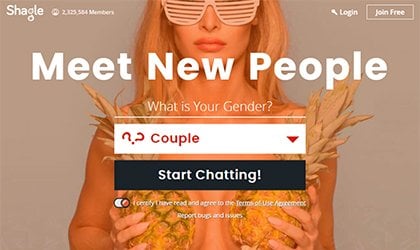 Shagle is a video chat roulette to meet new people. Instead of just pairing random strangers together, it lets you filter specific countries.
Even still, that isn't the only extra feature since you can also select to match with a chosen gender. Remember all those times you went on Omegle, then kept skipping every partner until you found a girl?
Well, there's absolutely no need for that when you're using Shagle!
---
Pros:
Country filtering
Millions of strangers
Gender pairing selection
Cons:
Premium-only options
Must use your location
Register for most features
---
11. Jerkmate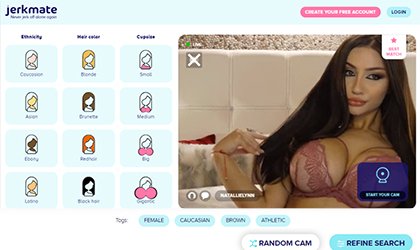 Jerkmate has a unique concept for a Chatroulette alternative. First, it gives you a random webcam as a preview. Next, users input a little bit of info about themselves, like sexual preferences.
Now a robot calculates a "Best Match" based on what you said. Alternatively, just scroll further below the live video for more close options. To actually talk to whoever it chose, they do require a free account. After registering, that's when it's finally time to go cam-to-cam with your partner.
Whether you're a girl or a guy, Jerkmate has the ability to figure out a personalized, yet random stranger for you!
---
Pros:
Highly customizable
For both men and women
Recommended as a C2C site
Cons:
Inaccurate pairs sometimes
Cybersex is the main appeal
Quickly prompts for sign-up
---
12. Camegle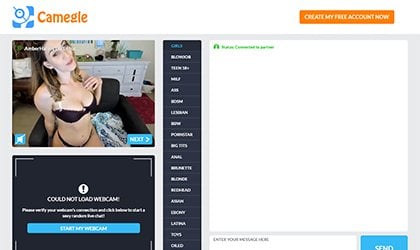 Camegle was made to be an adult Omegle alternative to chat with girls. Once the webcam roulette loads, you're matched to a random babe.
They also have many familiar features from the original site, and even add a couple of extra options too. For example, there are categories to change the type of women you'll pair with.
Something else worth mentioning is that Camegle has no costs involved. So, this fact alone could be pleasantly surprising for a lot of people.
It's not every day that you find a free roulette chat site with real girls online.
---
Pros:
Made to be like Omegle
Girls in each adult category
Alternative to meet women
Cons:
Loads pretty slowly at first
Forces registration early on
Only allowed a few previews
---
13. ChatSpin
ChatSpin differs from other Chatroulette alternatives with its location filters. At the top of the site, you can select from dozens of countries to exclusively pair with.
They also have video chat apps for Android and iPhone in addition to a functional web client. Overall, it's easily a top site like Omegle with an average of 100,000+ online strangers at once.
According to ChatSpin's statistics, a whopping 40% of users are women too!
---
Pros:
Modern Chatroulette
Apps for iPhone & Android
Meet new people instantly
Cons:
Overwhelmed by options
You'll need an account here
Subscription for some filters
---
14. Futaroulette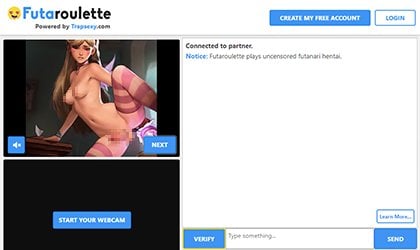 Futaroulette has a different concept than many other roulette chat platforms. Instead of talking face-to-face with strangers, their site streams videos of anime transgenders.
After signing up for free, they match you with a partner to discuss the short clips playing. Until then, guests are limited to watching, rather than chatting. Since it's so lewd though, Futaroulette stays as an Omegle alternative for adults only.
If you're into T-girls and anime, the action can be unbelievably hot.
---
Pros:
Interesting concept
Hot anime transgenders
Clearly the best of its kind
Cons:
Adult content (18+)
Much less about chatting
Not appealing to most folks
---
15. Jizzroulette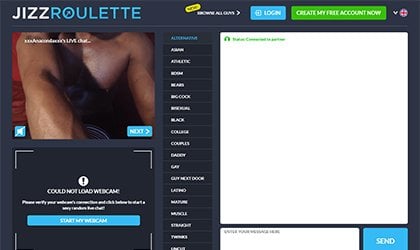 Jizzroulette looks like your standard gay video chat roulette. Sorry ladies, but this is an Omegle alternative only for men.
Upon entering, you're greeted by a random stud on webcam. Next, located beside your partner's video is a menu for choosing physique or ethnicity. And these sorting filters set Jizzroulette apart from any other gay roulette.
Anyone using it can exclusively pair with the type of guys they prefer!
---
Pros:
Sortable categories
User-friendly layout
Cam-to-cam for gay men
Cons:
Average guys, not models
Can't talk without a webcam
Annoying sign-up reminders
---
16. Pornoroulette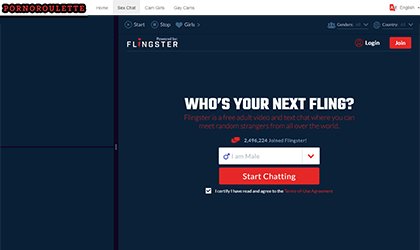 Pornoroulette's exactly what you might think it is – an adult Chatroulette. And they ensure the safety of minors by not letting anyone under 18 years old even connect.
After visiting the site, choose your gender and tap the "Start Chatting" button. Next, that'll take you into their video chat where you can enable a webcam. On a side note, if any users don't have one, they're placed into a different section.
Keep in mind, Pornoroulette doesn't have the greatest text chat area. Instead, it's only really for video chatting with strangers. If you're looking to stay off of webcam, Joingy has a corresponding section that'd be a better fit.
A nice perk here is also not being required to make an account either.
---
Pros:
Instantly start chatting
Anonymous conversations
Adult Omegle alternative
Cons:
Poor text-only section
Interface could be better
Not as good for mobile chat
---
17. Hentairoulette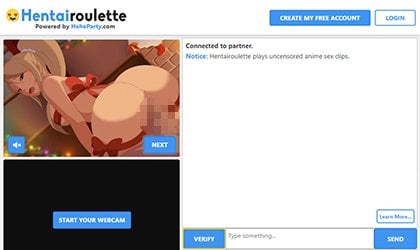 Hentairoulette plays uncensored footage of anime babes. As soon as you enter, short videos start playing, which puts you right in the middle of the action.
Although you can skip to a new random clip, that isn't needed because every match tends to be a good one. With a familiar concept as Omegle and Chatroulette, they certainly put a unique twist on the idea of it!
If you're into hot cartoon girls, then Hentairoulette is an enticing alternative.
---
Pros:
Alluring, sexy, etc.
Skip clips you don't like
Anime roulette chat site
Cons:
Mostly about watching
Not safe for work (NSFW)
Limited to around 50 pairs
---
18. Ahegaoroulette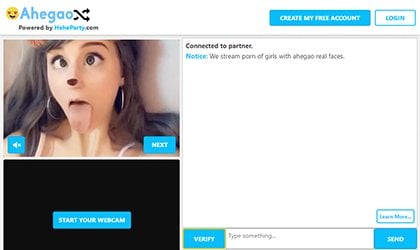 Ahegaoroulette might be the most unique Omegle alternative on our list.
If you don't know what ahegao means, every random person you match with here makes a silly anime face. At least, that's the idea of Ahegaoroulette. Once you see a hot girl doing it, you'll be drawn in by the fun, yet tempting look.
Because of the underlying lewd theme of ahegao, this is an adult Chatroulette site.
---
Pros:
Surprisingly entertaining
Lots of cute cosplay girls
Unique idea for a roulette
Cons:
Not appealing for some
Sign-up after ~25 matches
Could be too adult-oriented
---
Alternatives for Omegle and Chatroulette
It's important for an Omegle alternative to have many people online. If you keep reconnecting to the same strangers, it ruins the concept of a site like Chatroulette.
Each of these webcam apps was hand-picked by Joingy's team. – So feel confident that the random chat sites here are better than any other alternative.
---
"We went through hundreds of sites like Omegle," said a Joingy staff member. "Many of which didn't make the cut due to an issue with enough people being online."
---
Talking to strangers has become a thrilling way to meet people. Plus, it's a safe way to make new friends online, as long as you don't discuss any personal details.
Now you can get back to having cam to cam conversations! – And we recommend starting a random video chat right here on Joingy. In all likelihood, you might've even found a new favorite site like Omegle too.
At the very least, it's good to learn about what kinds of other apps are out there!
---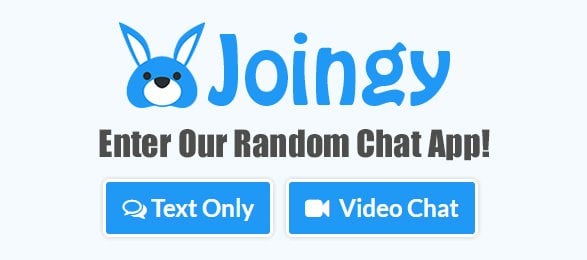 ---